We're all well aware of how social media has emerged as an indispensable tool for digital marketing, and the legal profession is no exception. Today's attorneys are embracing the power of social media to build their brand, communicate with clients, and stay abreast of industry trends.
In fact, a recent American Bar Association (ABA) survey found that 29% of lawyers credit social media with aiding in client retention. Furthermore, an additional survey shows an overwhelming 89% of attorneys maintain a social media presence. With such striking statistics, it's evident that social media has become a cornerstone of attorney marketing.
But what are the specific benefits of social media for lawyers?
And…
How can attorneys tap into this resource most effectively?
Keep reading to find out more.
Navigating social media might initially seem intimidating. However, when strategically used, social media can yield an array of benefits, allowing law firms to connect with audiences in unprecedented ways.
Here are some of them.
1. Increased Visibility
Social media platforms are used by billions globally. For lawyers, this means the opportunity to cast a wider net and reach potential clients beyond geographical constraints. Posting consistently about your expertise, cases handled, and legal knowledge can boost your online visibility, making your practice more accessible to those seeking legal help.
2. Brand Building
Brand recognition is crucial in the legal world. When you regularly showcase your successes, share thought leadership, and provide insights into your firm's culture on social media; you cultivate a distinct, recognizable brand. This ongoing brand narrative helps build trust, positioning you as a go-to resource in your field of law.
3. Client Acquisition
When you use the right content strategy, social media can become a powerful client acquisition tool. By offering value through informative posts, insightful articles, and expert commentary on legal matters, you can attract potential clients seeking the legal services you provide.
4. Audience Engagement
Social media is a two-way communication channel. Encouraging interaction through comments, likes, shares, and direct messages can lead to meaningful conversations. This engagement can help you understand your audience better, foster a loyal community, and keep your finger on the pulse of your client's needs and concerns.
5. Competitor and Trend Analysis
Social media is a goldmine of information about competitors and industry trends. Regularly monitoring your competitors' social media activities can offer insights into their strategies. Likewise, keeping abreast of trending legal topics can ensure your practice remains relevant and ahead of the curve.
6. Accessibility and Trust
An active social media presence signals that your practice is accessible and approachable. By showcasing your achievements and offering a glimpse behind the scenes, you build trust with your audience. Over time, this trust transforms into authority, strengthening your reputation in the legal community.
7. Data-Driven Advertising
Social media platforms offer comprehensive analytics tools that provide insights into your audience demographics, content performance, and advertising results. Leveraging this data enables you to refine your strategy, make informed marketing decisions, and optimize your online advertising efforts.
All these benefits of social media, but on which platform can you put it to use? Let's look at the five best social media platforms for lawyers.
Diving headfirst into every social media platform might seem tempting when beginning your social media marketing journey. However, in the realm of legal services, a more strategic, targeted approach is required.
Thus, let's delve into the top five social networks that provide the most value to lawyers:
1. Facebook for Lawyers
Facebook, being the largest social networking platform, with over 2.98 billion monthly active users itself in the first quarter of 2023, allows lawyers to reach an extensive audience.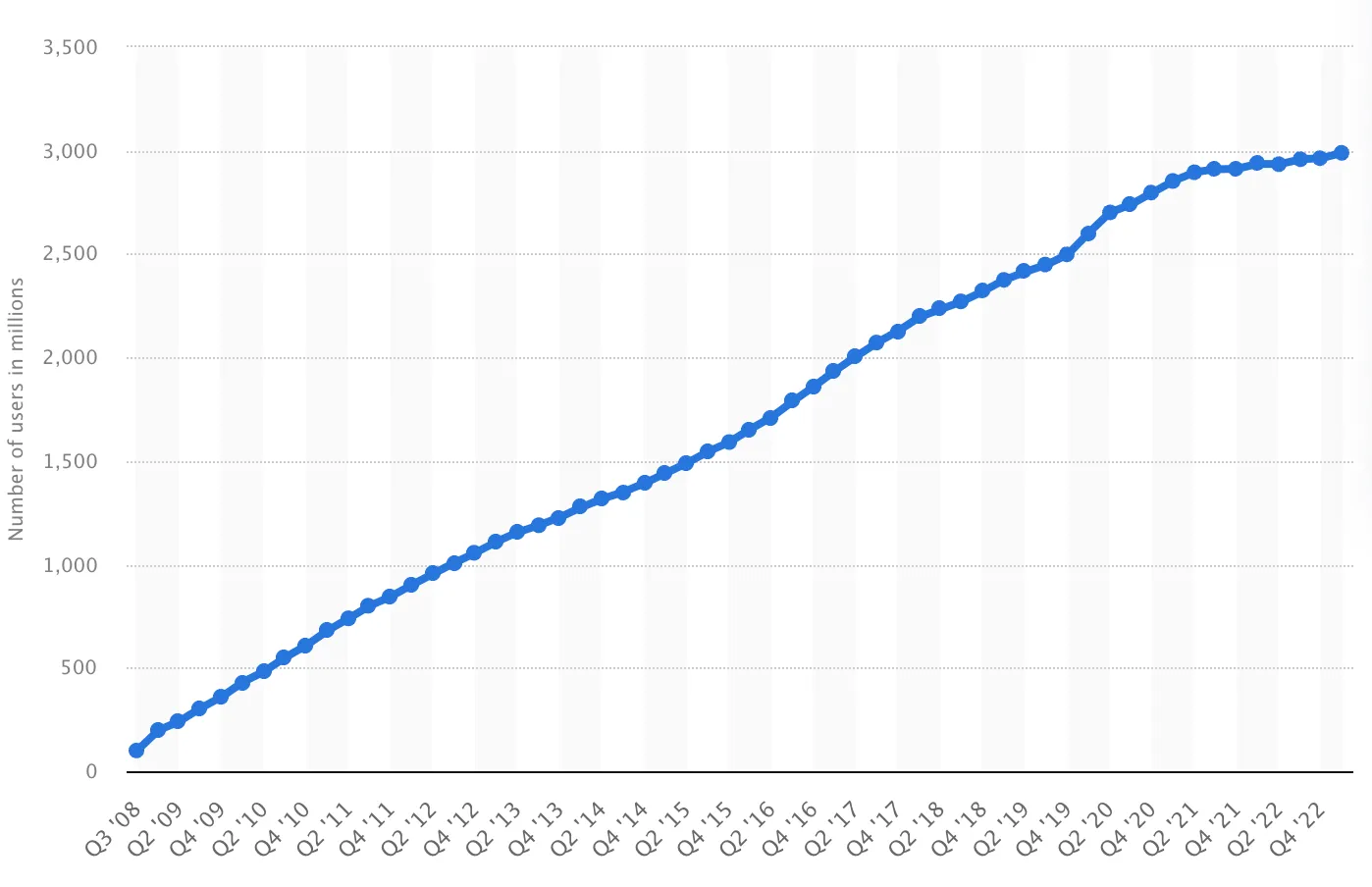 The platform offers robust advertising features that can help lawyers attract new clients. Law firms can create custom ad campaigns targeting individuals who may need legal services based on their behaviors, interests, and even location.
Beyond just client acquisition, Facebook is an excellent platform for maintaining relationships with existing clients through regular updates and interaction.
Despite Facebook's extensive reach, another platform, Instagram, presents its own unique opportunities.
2. Instagram for Lawyers
Instagram, Meta's second most popular social media platform after Facebook, boasts over one billion active users. While it is primarily known to be a platform for sharing eye-catching photos, Instagram allows lawyers to engage with potential clients on a more personal level.
With features like Reels and Stories, attorneys can showcase behind-the-scenes glimpses of their practice, helping to build trust and authenticity. Plus, using relevant hashtags can greatly increase the visibility of posts, potentially reaching individuals needing legal services.
But for those seeking a strictly professional atmosphere, LinkedIn is the go-to platform.
3. LinkedIn for Lawyers
As a professional networking site with over 774 million users, LinkedIn is not just a platform for job seekers and recruiters but also a powerful tool for lawyers to market their law brands and reach new audiences.
Here, lawyers can highlight their accomplishments, share articles related to their fields of expertise, and engage in meaningful discussions about the latest legal trends. Not only does this provide a platform for demonstrating thought leadership, but it also opens avenues for networking with other professionals.
The platform's targeting capabilities also stand out. LinkedIn allows for incredibly precise ad targeting based on job title, industry, and seniority level. This means lawyers can create ad campaigns directed at potential clients working in specific industries, improving client acquisition probability.
4. Twitter for Lawyers
Twitter might not be the largest social media platform, but it's a powerful tool that lawyers can use for marketing. With close to 400 million active users, lawyers can position themselves as thought leaders by regularly posting updates and opinions on legal news, court rulings, and changes in the law.
However, Twitter's real power lies in the engagement it fosters. Lawyers can use the platform to interact directly with followers, answer queries, and join in on trending conversations, increasing their visibility and credibility. Twitter's advanced search features can also be used to find and engage with potential clients or track conversations around specific legal topics or cases.
Still, when it comes to in-depth content, YouTube takes the crown.
5. YouTube for Lawyers
Most platforms, like Instagram and TikTok, for instance, are typically characterized by brief content snippets. However, YouTube goes against the grain with over two billion logged-in monthly active users. For lawyers, this is an opportunity to create and share resourceful and engaging videos that capture audiences' interest and provides them with real value.
Law firms can utilize YouTube to host a variety of content types, such as detailed explainer videos, interviews with legal experts, or Q&A sessions. These video formats can help demystify the legal process and answer common legal questions, thereby establishing the law firm as a reliable source of information.
Also, as per statistics, 84% of viewers have purchased from a brand after seeing it on YouTube. This statistic further emphasizes the platform's potential to convert viewers into clients.
In summary, these five platforms provide distinct opportunities for lawyers to reach and engage with their audiences. Still, the trick lies in understanding their unique features and leveraging them for legal marketing.
After understanding the platforms' unique advantages, the next step is to apply effective strategies tailored to each. The following section will guide you on leveraging these platforms to reach your target audience and meet your marketing objectives.
With so many platforms and competition in social media marketing, it's imperative to hone effective strategies to amplify your voice and maximize your reach.
Let's explore five effective social media marketing strategies tailored for lawyers that can be your beacon in this bustling ever-so-competitive space.
1. Focus on Different Post Ideas
Crafting a compelling social media presence begins with a diverse content strategy. As a lawyer or law firm, your goal should be to engage your audience while positioning yourself as a thought leader.
Consider creating a content calendar that includes your law firm's updates, thought-provoking commentary on legal issues, legal humor, and relevant legal news.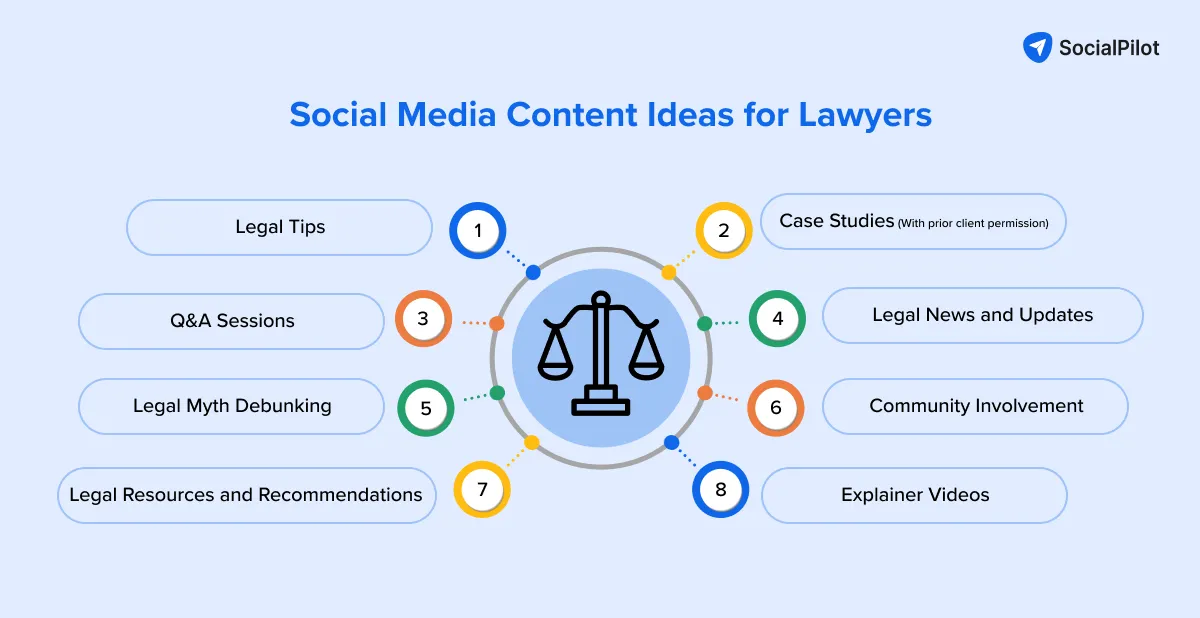 To experiment with what works best for your law firm, choose a mix of post ideas that focus on your law firm's events and news, legal humor, law-related news, etc. You can take inspiration from DLA Piper, a US-based law firm that consistently shares a blend of posts ranging from firm news to industry insights.
Take a look at one of their posts below.
Your content calendar can also involve something as simple as sharing holiday wishes. Check out American law firm Allen & Overy's Instagram post for Hanukkah.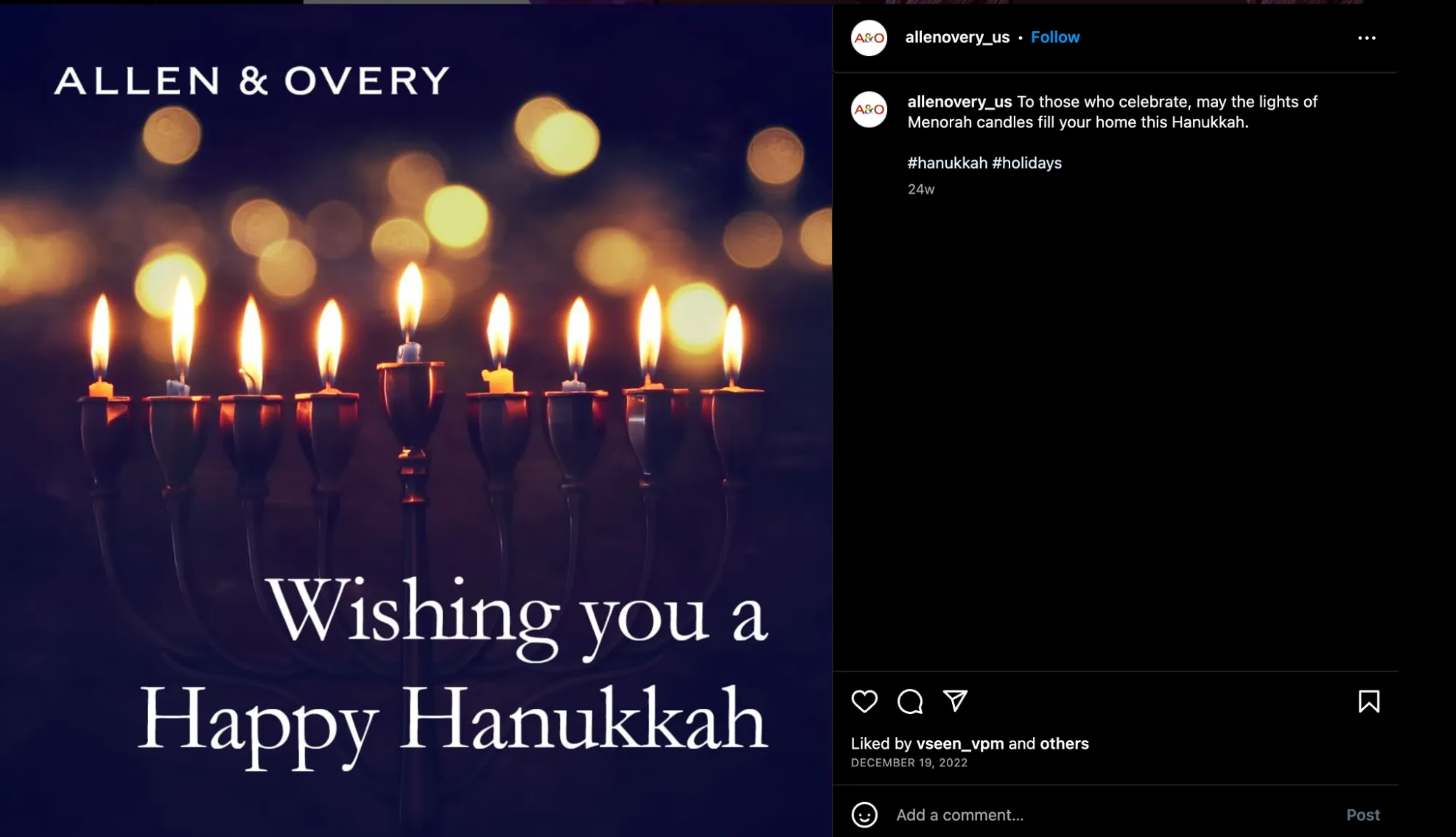 Furthermore, infographics that simplify complex legal topics, Q&A sessions, or even stories from your daily law practice can provide engaging content that sets your law firm apart.
Remember, consistency is crucial. Regularly posting a variety of content can help maintain audience engagement and grow your following.
An important goal for any social media marketing effort is to convert the audience into prospective leads. By sharing insightful and resourceful content that links back to your website, you not only provide value to your audience but also encourage them to explore your services.
Consider promoting blog posts that answer common legal questions, explain important legal concepts, or analyze recent legal news. When promoting your services, craft posts that highlight your expertise, success stories, and unique selling propositions. Linking these posts to corresponding landing pages can streamline the client acquisition process.
Most importantly…
Remember, every social media post should serve a purpose, whether it's to educate, engage, or convert.
3. Showcase Testimonials
Trust plays a pivotal role in a client's decision to hire a lawyer. One way to cultivate this trust is by showcasing genuine client testimonials. Sharing these stories illustrates your success in tangible terms and can reassure potential clients of your abilities.
But there's a crucial point to keep in mind.
When sharing testimonials, ensure you've obtained your client's consent and avoided revealing personal or case-specific information per ABA regulations.
Check out how Hach & Rose shared a client testimonial as a Facebook post.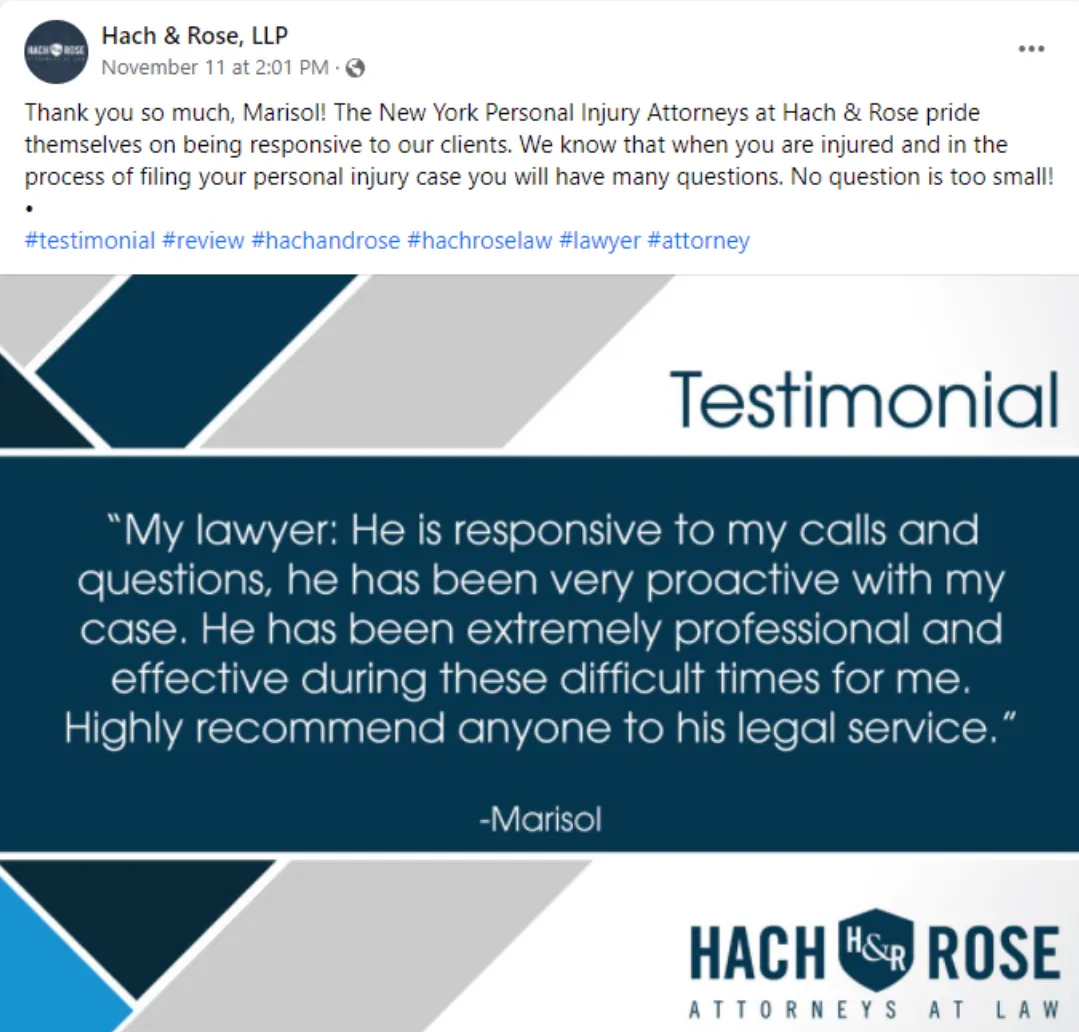 Incorporating images or videos can make testimonials more engaging and relatable. Additionally, showcasing your law firm's accomplishments and notable case victories alongside these testimonials can further enhance your credibility.
4. Respond to Reviews, Good or Bad
Today, online reputation can greatly impact a law firm's success. Managing your reviews proactively is a must. This involves responding to both positive and negative reviews. Doing so will demonstrate your commitment to client satisfaction.
Now, you must be wondering why you should be responding to negative reviews.
As per online review statistics, about 93% of consumers state that they pay close attention to negative reviews before choosing any product or service. Even a Harvard Business Review study found that responding to customer reviews results in better ratings.
Therefore, when a negative review appears, approach it as an opportunity for improvement. Respond promptly, empathetically, and professionally while complying with ABA confidentiality guidelines.
Here is an example of how Disability Attorneys of Michigan does it through its review responses.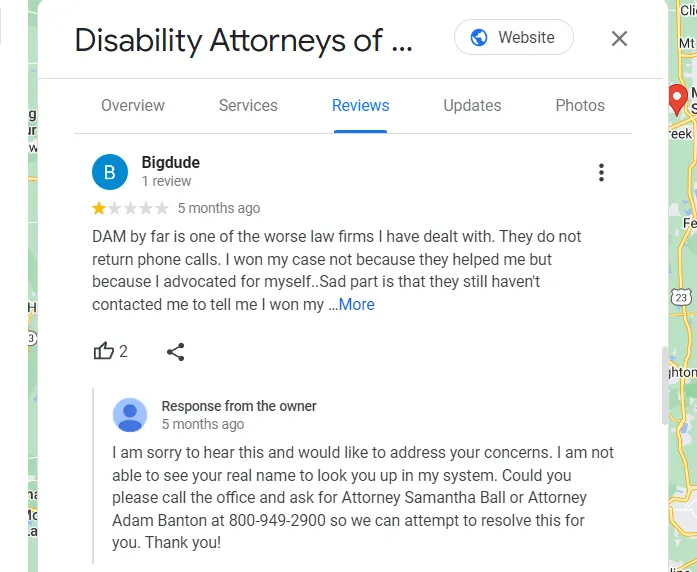 >An effective response can potentially turn a dissatisfied client into a satisfied one and shows potential clients your dedication to resolving issues.
5. Find the Best Time to Post
Even the most engaging content can fall flat if it's not posted at an optimal time. Each social media platform has different peak usage times, which vary based on factors like industry, target audience, and geography.
You can also read our guide on the best time to post on social media to know which time is best for you to post content.
Generally, mid-week posts during the afternoon are found to get the most traction, but it's essential to test and analyze your data to find your audience's peak activity times. Social media management tools like SocialPilot and their analytics features can help you understand how well your posts perform so that you always post at the right time.
As you continue to navigate the labyrinth of social media marketing, the above strategies will hopefully provide a roadmap for success.
The next section will look at more specific social media marketing tips that lawyers can use to enhance online presence and client engagement further.
Social media is a powerful tool and a great channel for you to tell your story, showcase your expertise, and make an impact. For lawyers, this means navigating the fine line between professional responsibility and social media marketing.
Here are five top-notch social media marketing tips to help you make your mark.
1. Creating and Maintaining a Website
Your website is your digital cornerstone. It's where you introduce your team, outline your services, and highlight your achievements.
Hence, creating and maintaining a website to establish a professional online presence for your law firm is crucial.
However, don't make it only about you—include resources like blogs, legal advice, and helpful guides for potential clients. Regularly updating your content ensures you're providing current and prospective clients with fresh, engaging material, keeping your firm top-of-mind and your website top of search results.
2. Setting Up a Google My Business (GMB) Profile
A GMB profile is a non-negotiable for law firms as it brings local visibility. Consider your GMB profile as a digital billboard for your law firm displaying all important information like hours of operation, physical location, contact details, and, most importantly, client reviews.
As stated earlier, too, client reviews give potential clients a glimpse of what they can expect when working with you, making it a powerful credibility-building tool.
While setting up a GMB profile, ensure all the information you're providing is absolutely accurate.
A social media policy acts as a code of conduct for your firm's digital communication. A strict policy ensures your team's online interactions align with professional standards and ethics, protecting your firm from potentially damaging legal issues.
Why is this so important?
Creating a social media policy protects your law firm from legal issues that may arise due to inappropriate content posting.
So, what should the social media policy cover?
The policy should cover elements like confidentiality, respectful communication, personal and professional boundaries on social media, and clear guidelines for responding to comments and reviews. Remember to take into account ABA guidelines before creating a social media policy.
4. Engage in Relevant Discussions
Your audience online wants to know that you are not just an online entity but also an active participant in relevant conversations. For this, ensure you join legal discussions, comment on legal news, and share your insights.
But how do you do this?
Social listening tools can help you track relevant conversations and respond proactively. Alternatively, we recommend trying out SocialPilot's Social Media Inbox to keep track of all conversations and respond proactively from a single dashboard.
This active engagement shows your audience that you're in touch with the current legal landscape and interested in their concerns.
Want to always put your best foot forward on social media? Make analytics your best friend, then.
The data you gather can help you understand your audience, their preferences, and their behaviors. By identifying trends and patterns, you can fine-tune your strategy, focus on what works, and discard what doesn't.
Remember…
This isn't a one-time effort; continuous monitoring and adjusting are key to maximizing your social media presence.
Speaking of analytics, compiling and analyzing performance data from all your social media channels can be daunting, but SocialPilot can help you avoid it.
How?
SocialPilot's analytics feature offers in-depth insights into your social media performance. With this feature, you can track engagement, reach, and follower growth across platforms. Measure the effectiveness of your content and campaigns, identify trends, and make data-driven decisions to optimize your social media strategy.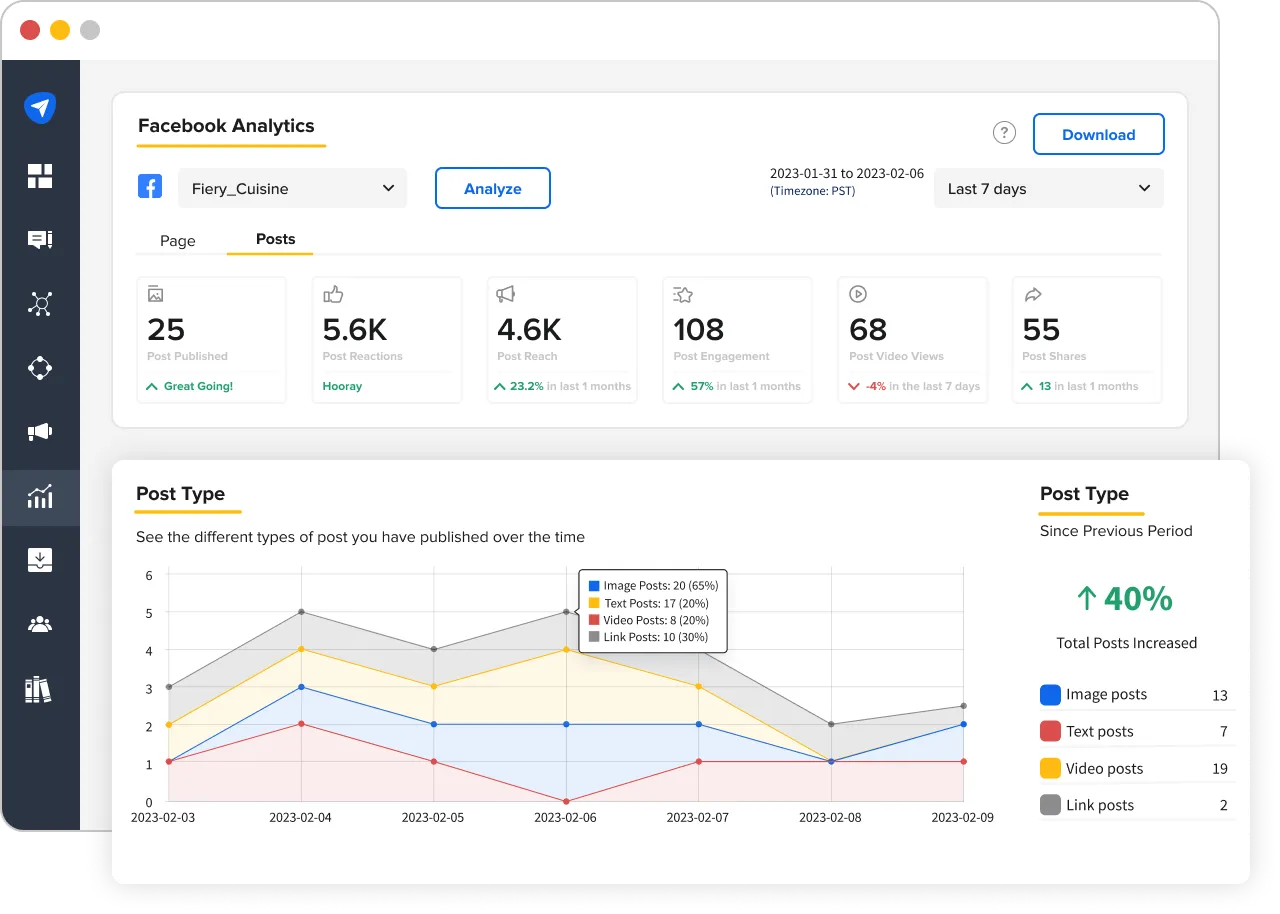 Start Your 14-day Trial
Even the most experienced social media navigators can sometimes drift off course. Here are some common social media mistakes lawyers must avoid:
1. Don't Make False Claims
It's natural to want to highlight your achievements and successes. But credibility is key in the legal profession, and overstating or making false claims can damage your reputation. Always ensure your social media posts reflect your firm's true abilities and real successes.
2. Avoid Overuse of Legal Jargon
Remember, not all your followers are lawyers. Avoid using overly complex legal language in your posts. Instead, strive for a clear and engaging tone that encourages interaction and makes the law feel more accessible to your audience.
3. Refrain From Labeling Yourself a Specialist
The term "specialist" is loaded with expectations and implications. AMA guidelines clearly state that lawyers must not call themselves, or even imply, they are a specialist unless approved by an appropriate authority. However, if you are a specialist, ensure you mention the certifying organization to maintain transparency. Misrepresentation can lead to serious ethical and professional consequences.
4. Respect Your Client's Privacy
Client confidentiality is paramount in the legal profession. Be extremely cautious when sharing client stories or case details on social media. Always obtain express permission from clients before sharing any information related to them.
5. Don't Directly Solicit Clients
While social media is an effective tool for reaching potential clients, there are limits. The ABA prohibits the direct solicitation of clients for traditional and certain online advertising. Be careful to ensure your social media activities are within ethical and professional boundaries.
For your reference, the ABA only approves billboards, search engine optimization, pay-per-click, and social media advertising for attorneys.
SocialPilot is an advanced social media management tool designed to elevate your law firm's digital marketing strategies.
How?
SocialPilot encompasses dynamic content scheduling and publishing features, collaborative opportunities, and insightful analytics, all geared towards promoting your law firm's online presence. Further enhancing its appeal is the Social Inbox, enabling real-time engagement with your audience.
Now, let's delve deeper into the key features that set SocialPilot apart and make it a vital component of your law firm's social media strategy:
Streamline consistency in content scheduling: Consistency is key in social media marketing. Utilize tools like SocialPilot to schedule posts and create content calendars, ensuring your law firm stays top-of-mind with regular and timely content. Preview posts for customization and visualize your strategy with a straightforward content calendar.
Elevate responsiveness with a dedicated social inbox: Timely responses on social media are crucial. A dedicated social inbox, like the one offered by SocialPilot, allows you to swiftly engage in relevant conversations across various platforms, enhancing engagement and personalizing client interactions.
Optimize campaign performance with analytics: Beyond content creation, understanding the performance of your social media efforts is key. Delve into performance insights with tools like SocialPilot, which offers data on individual post-performance, audience demographics, and hashtag performance, enabling you to fine-tune your strategies based on what resonates most with your audience.
Manage multi-platform presence seamlessly: Navigating multiple social media accounts can be challenging. SocialPilot eases this burden by providing a comprehensive tool to manage accounts across platforms like Facebook, Instagram, LinkedIn, Twitter, and others, optimizing efficiency and ensuring a unified brand presence.
Facilitate effective team collaboration: For law firms, ensuring content compliance is crucial. SocialPilot's team collaboration feature lets you establish an approval workflow, enabling authorized team members to review each piece of content before it goes live, ensuring only law-compliant material is shared.
2. Canva: Visual Mastery Simplified
Canva is an intuitive graphic design tool with pre-configured templates and customizable elements, ideal for producing striking visuals for legal marketing purposes.
3. Adobe Express: Swift Photo Enhancement
Adobe Express is a mobile application providing potent editing capabilities, including filters and text overlays, to refine your images professionally.
4. Snapseed: Artistic Photo Transformation
Snapseed is a comprehensive image editing app that helps fine-tune the visual storytelling of your law firm with precise color adjustments, exposure edits, and creative effects.
5. Lightworks: Video Editing at its Finest
Lightworks is a top-notch free video editing tool perfect for polishing videos of court presentations or interviews with its advanced features like multi-track editing and real-time effects.
6. ChatGPT: AI-Powered Content Companion
ChatGPT is an AI-backed language model capable of generating human-like text, brainstorming ideas, and delivering information across a wide range of topics, proving to be a valuable tool for content creation.
Instasize is a renowned mobile app for photo and video editing, offering filters and effects tailored for social media content to achieve a consistent, professional look across posts.
8. Animoto: Simplified Professional Video Creation
Animoto is a user-friendly platform enabling users to create professional-looking videos using pre-made templates, their own content, and customizable elements such as text, music, and effects.
9. GIMP: The Comprehensive Image Editing Solution
GIMP is an open-source image editing software providing features comparable to professional editing tools for photo retouching, image composition, and graphic design.
10. Pexels: Your Source for Creative Visuals
Pexels is a vast resource of free, high-quality stock photos and videos. Its extensive collection can enhance the visual appeal of your law firm's social media posts, marketing materials, and website design.
Conclusion
Social media marketing has become a key player in legal marketing, demanding unwavering consistency. By remaining consistently active on social media, you foster stronger relationships with your followers and establish meaningful connections with clients without marketing yourself aggressively.
However, strategic planning is critical to reap the benefits of social media marketing. So, ensure you go through an in-depth social media marketing guide before you begin with attorney marketing on social media.